"What's ya flava?" Is it possible to take your own fashion style and turn that into the bathroom that you have always wanted...yes! But first, lets look at some decor styles to get an idea of what they are before you decide which one fits your fashion style. The decor styles that we will look at are: traditional, modern and contemporary style.
* Traditional Style
- nothing wild or risky
- classic furnishings and classic lines
- anything vintage
- very matchy matchy and consistent
- functional, no fuss
(
http://www.interiordecor.about.com/
)
( Taken from
www.uniquecabinets.com
)
* Modern Style
- polished, sleek and chic
- neutral colors: brown, beige etc.
- art has striking shapes, special pieces should be called out with a spotlight
(
http://www.hgtv.cm/
)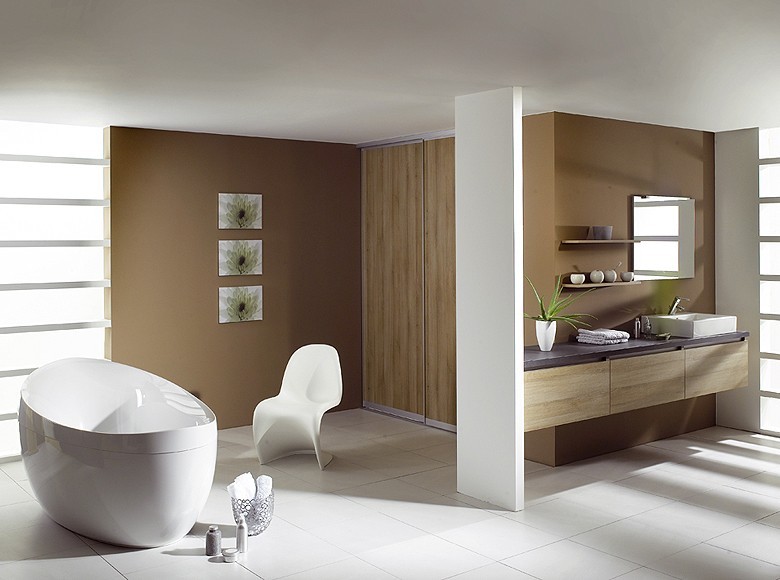 (Taken from
www.home-designing.com
)
* Contemporary Style
-brings together a range of styles
- colors are tone on tone (monotone)
- clean and classic lines
- statement or signature pieces
(
http://www.hgtv.com/
)
( Taken from
www.trendir.com
)
Now that you have a little better idea of what these decor styles look like, you can pull certain characteristic traits from your fashion style and match them to your home decor style. For me, my fashion style includes looking chic with classic styles and signature pieces that are wild and/or bold. I don't match my clothes (I wear pieces that "go" together), nor do I wear monotones. So, then my decorating style would be modern. It's just that easy to transfer your fashion style into your home decor. In the part three of this series, I will show you how to take your ideas and do-it-yourself on a budget.
See related articles:
http://hwheeler06.blogspot.com/2010/10/occupied-lastest-trends-in-bathroom.html
http://hwheeler06.blogspot.com/2010/12/occupied-part-b-doing-it-yourself.html
http://hwheeler06.blogspot.com/2010/11/occupied-part-3-doing-it-yourself.html